by Hilary Mac Austin and Kathleen Thompson
With a Foreword by Ruby Dee and Ossie Davis
Margo Jefferson, The New York Times:
Here's to the coffee-table book that stays open because you can't stop thinking about it. . . . The cover of America's Children: Picturing Childhood From Early America to the Present is predictably adorable: two little boys, gazing into the camera with bright eyes and hopeful expressions. The boy on the left is white and his little hand holds the shoulder of the other boy, who is Japanese. We don't find out until much farther into the book that the picture was taken by Dorothea Large in 1942, and that the Japanese boy was taken to a "relocation center" shortly afterward.
Kathleen Thompson and Hilary Mac Austin have compiled a book that frees childhood from the confines of piety or nostalgia and makes it part of our cultural and political history. We see children working in mines, hauling ice, at labor strikes, in orphanages, dressed exquisitely, dressed in rags, dressed for war, playing with dolls, playing in the street beside a dead horse. We see every ethnicity, and every class, and we move, thanks to engravings as well as photographs, from the 16th to the 21st century. And we experience every emotion, from grief and rage to pure delight. Here's to the miracles of creativity and truth . . . We need them desperately.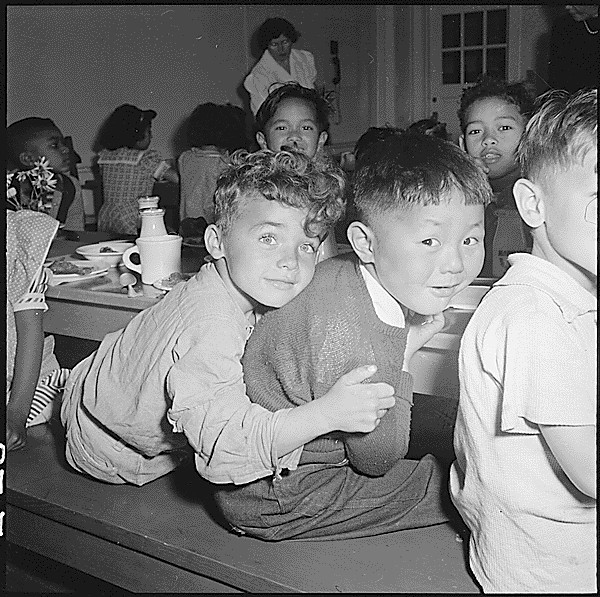 Dorothea Lange photographed these two boys in the lunchroom at the Raphael Weill public school in San Francisco, California in April, 1942. The Japanese boy was sent to a Relocation Center a short time later. National Archives.
On this page is a sampling of images and text from America's Children. The book itself contains more than 350 images, as well as excerpts from diaries, letters, oral histories, and journals. Each of the eight major sections is put in context by a one-page introduction.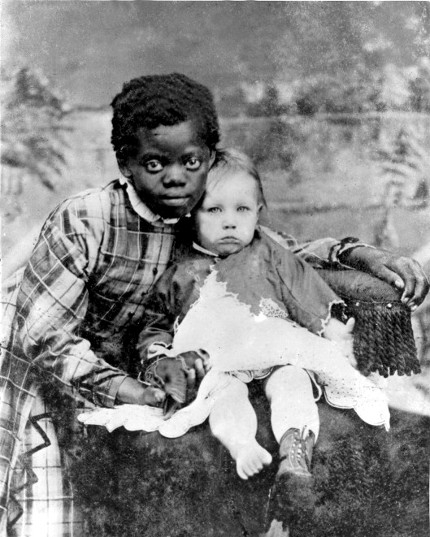 This 1868 photo is entitled "Magby Peterson and his Nanny." The little girl may have considered herself fortunate to be chisen to work as a nany rather than a field worker. However, house servants were usually isolated from their families and community. She may never have lived with here parents again after being given this job. Florida State Archives.
February 22
I have spun 30 knots of linen and mended a pait of stickings for Lucinda, read a part of Pilgrim's Progress, copied part of my text journal, Played some, laugh'd enough, & I tell aunt it is all human nature if not human reason.
Anna Green Winslow, thirteen years old in her diary written in Boston in 1772.
It was my duty to supply my gun with powder...A woolen screen, saturated with water, was placed before the entrance to the magazine, with a hole in it, through which cartridges were passed to the boys. We received them there and covering them with our jackets to prevent sparts from prematurely exploding them, hurried to our respective guns. These precautions are taken tp prevent the powder taking fire before it reached the gun.
Samuel Leach, powder monkey in the early 1800s.
A young powder monkey stands by a 100-pound Parrot rifled gun on the USS New Hampshire during the Civil War. (Cropped from a larger image.) Library of Congress.
A family of settlers heads west in this photograph taken in the1880s. During the thousands of nineteenth-century treks across the continent, children and their mothers were often casualties of a father's desire for a better life in the West.
The Adams arrived with six townspeople at sunrise. We set the stringers and put the kingposts in place. We have made a fine bridge. Father put a brush atop the posts and we all sang and drank. Sarah brought a cake. One man fell into the brook but he was not hurt.
Noah Blake, fifteen years old, in a diary written in 1805